Art Clubcard
Join Sweden's most rewarding program – a digital liquidity project from the organization Northern Sustainable Futures.
Art Clubcard – Join Sweden's most rewarding program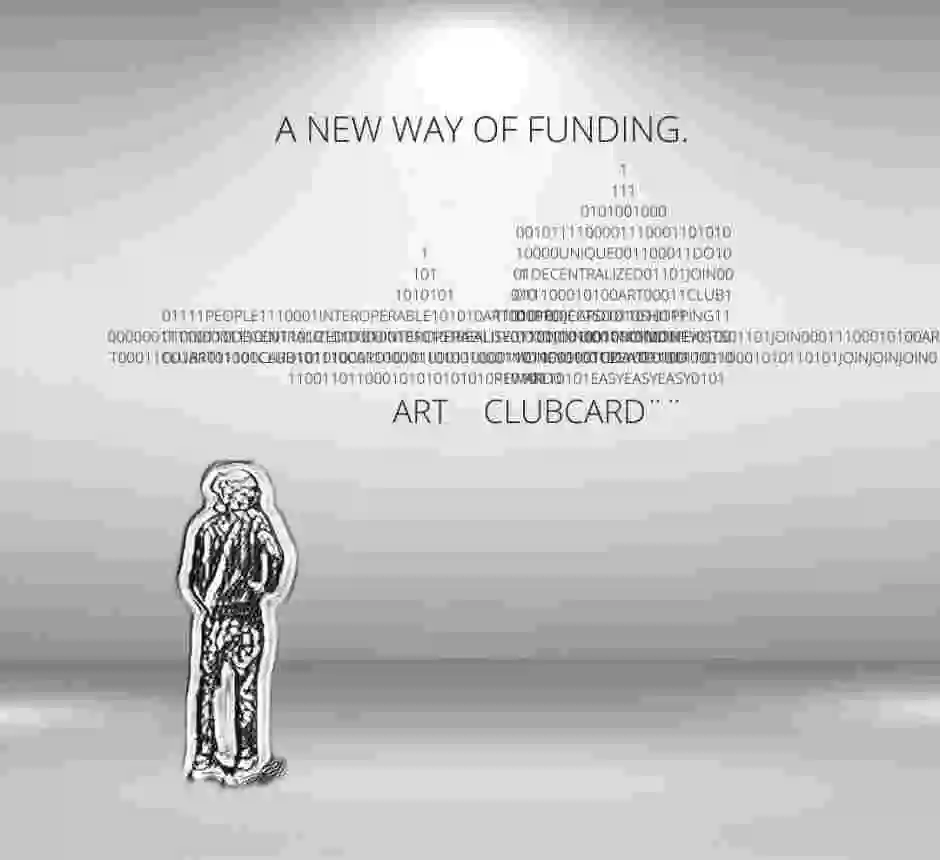 Coming from a background as a manager who developed several digital projects at Rolls-Royce cars in the UK, engineer Goncalo Marques, moved to northern Sweden where he, together with his partner and other creatives, started up the organization Northern Sustainable Futures. 
Please give us a brief background about yourself
Hi, my name is Goncalo Marques, originally from Portugal, now living in Northern Sweden. I am an engineer working with innovative technologies and quality planning.
After several years as a manager at Rolls-Royce Motor cars in the UK, where I developed several digital projects focused on new concepts to leverage digitalization and empower people, I met my now partner, dance artist Linda Remahl. We then initiated the exploration of the huge potential of combining knowledge between artistic and engineering sectors.
What was the first step of the process?
We started an organization in Arvidsjaur, Northern Sustainable Futures with the mindset of forging a multi-disciplinary flexible team that collaborates with one another to create sustainable experiences that are innovative and/or non-existent.  We are keen to explore and combine physical and digital worlds – from art and food to the metaverse.
We initiated within the physical spectrum, as it was extremely obvious the urgent need for spaces for artists from all disciplines to work and also live in collaboration and develop synergies. In a sustainable methodology, we purchased a large empty closed down school building in the rural village of Moskosel, rural inland Norrbotten, and launched Moskosel Creative Lab. A creative cultural hub with approx. 37.000m2,  20+ studio rooms, 13+ living tiny homes, a sports hall (800m2), dance, cinema, virtual reality rooms, gym, and several sharing areas.
We are running several projects, such as Artists In Emergency, support for residency for Ukrainian artists,  #UpNorth22, an immersive art experience developed in a mobile shipping container to mitigate geographic limitations, especially in a post-covid era, a mobile Konsthall,  and the Art Clubcard – Join Sweden's most rewarding program, one solution to the art funding challenge. We are continuing our sustainable quest and creating solutions and new approaches to social challenges.
How did your idea emerge?
The idea for the Art Clubcard has been bubbling in my mind since academic times. For the methodology to be successful it needs to tick several boxes: the contemplation of the intrinsic value of art, the commercial aspects of business, and being attractive to wider audiences in order to build a long-term solution.
Now, we are fully confident that we cracked the code and we are very excited to show it to the world. For us, most importantly, is to bring truly meaningful outcomes for artists to fund their projects.
What are your expectations on the project?
I think that with a strong mindset and focus, anything is possible to achieve. We did not start this journey to create a small-scale platform. We strive for it to be truly meaningful and inclusive to artists that struggle to secure finances for their projects, especially for projects in areas where there are limited funds available or perhaps do not fit societal norms. Therefore, our target is for Art Clubcard to become one of the larger liquidity providers for art projects in Sweden.
What is your driving force into the project?
My driving force is the power of creative thinking. Manufacturing solutions for existing challenges. I strongly believe in bringing ideas into existence as the pathway for social evolution. In this project, we are exploring the circle sharing economy, where all parties are valuable in the ecosystem and directly rewarded.
What is your role in the project? Who else is participating, if any?
I am the idea initiator and project manager. We have several other members that are actively contributing to the overall success of the project. We are connecting with several stakeholders in the art and business sector, utilizing and leveraging innovative techniques and approaches – blockchain, interoperability, and reaching wider scalability.
At what phase is the project right now?
It was crucial for me to secure a base, by coding the digital assets and performing high-level transaction flow between digital wallets – which was done successfully. Now we are in the phase: #GettingPeopleIntoIt – it is focused on branding, communication, networking, outreach, information, and showcase MVP (Minimum Viable Product).
Do you have any specific insights or a happening that you want to speak about to our followers, anything fun or specific that has happened along the way, or something that you learned?
I think we are living in a crucial period in time, where technology has become intertwined with our everyday lives. History will look back upon us and realize that the beginning of the future is now.
I was surprised about how established organizations positively acknowledge and want to know more about the combination of art and technology. They appreciate that technology and art have an important role in our society, and appreciate that a project like Art Clubcard could open new doors for their own businesses growth.
What inspires you to think and create new?
I believe creative thinking is inherent in all of us. Our society tends to follow a logical, conservative and quantifiable approach in many areas. Although this has several advantages, a known disadvantage is that it limits our creative thinking, and leads us to stay with what we know and believe is secure – making most people live life in a constant pattern, without feeling the need to push boundaries and think outside the box. My engineering background helps me to enjoy pushing boundaries and discovering possible solutions to questions and challenges.
What are your best advice to boost creativity and to have the courage to believe in your idea?
People are very distinct from one another, so it is hard to give advice that applies to all in the same way. Be creative and open-minded with compassion. Step out from norms and expectations. I theorize that our thoughts are the only energy that we can, somehow, fully control. I would say just to use thoughts or ideas creatively and wisely with a meaningful purpose to fulfill one's visions and goals. To think big, create Innovation and trust.
Mer information
För att läsa mer om Northern Sustainable Futures, klicka här.