BamBam Frost & Lydia Östberg Diakité
BamBam Frost & Lydia Östberg Diakité
BamBam Frost is a dancer and choreographer based in Stockholm, Sweden. She graduated from Stockholm University of the Arts in 2013. In her work she has moved between the club scene, commercial work, the contemporary dancefield and art institutions. In 2018 she debuted with her piece SORRY.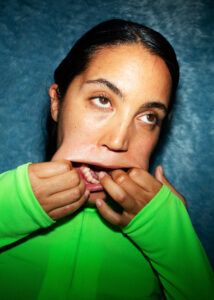 SORRY (2018), SO SORRY (2019), and YES (2020) all take off from her interest in social dances and pop culture phenomena in relation to the times and contexts they arose from. In her work she insists on pleasure and fiction as a compass to imagine and shape choreographic proposals. "immortal summit" and "choreographic conversation" were created together with Lydia Östberg Diakité and both premiered in 2021.
Lydia Östberg Diakité is a choreographer, dancer and union organizer whose work revolves around re-thinking subjectivity, popular cultural phenomena and hyper-performativity from a black intersectional feminist practice. Graduated from The Danish National School of Performing arts – Dance and Choreography studies in 2017, and have since worked and toured with numerous pieces internationally: most recent work immortal summit (2021) and A Choreographic Conversation (2021) created together with BamBam Frost, CRY BABY (2020), and FIEBRE (2018) winner of The ImPulsTanz Young Choreographers' Awards – 8t:ension series 2021, co-signed with Tamara Alegre and Marie Ursin. Diakité co-founded Dance Cooperative (2019) which is an artist-run studio in Copenhagen and sits on the board of The Union (2018), a culture workers union that works for creating critical anti-racist discourse within the art and culture scene in Denmark.