–
Welcome to conversations about sharing and stone walls!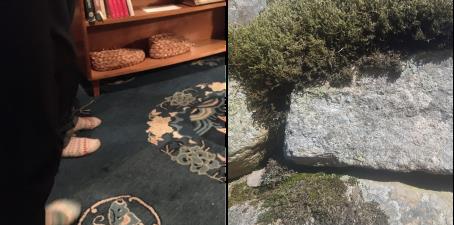 On International Women's Day on March 8 we invite you to two conversations that springs from a dialogue with Elin Wägner and her house Lilla Björka. Elin Wägner's work for women's rights was closely linked to a commitment to pacifism and care for nature. We explore how we, in our present and ongoing re-learning, can find seeds for a sustainable future in Elin Wägner's thinking and at the place Lilla Björka.
16.00-16.15
Åsa Ståhl and Christina Zetterlund welcome and present the project (Re-)learning the Archive and the meeting between design practitioners and design researchers which took place at Lilla Björka in the autumn of 2021.
16.15-16.50
The first conversation is about sharing. Katarina Bonnevier, Andrea Botero, Bianca Elzenbaumer and Åsa Ståhl investigate the questions: how we can make something to share – or possibly unmake to share? What can we share – is for example a surplus required? Who has the capacity to share, with whom?
17.00-17.40
The second conversation with and about stone walls. Franca Lopez Barbera, Leah Ireland and Christina Zetterlund discuss the mossy stone walls that are an essential part of Småland's landscape. These are both contemporary and historical traces of the relationship between farmers and their land. In this conversation, we want to stay with the stone walls and reflect on what they tell us about ways of relating to nature, laboring bodies, and the creative potential of refusal.
The program is held in English.
You can either participate online or join us at Under Ekarna. Link to the Zoom-meeting will be published here on Friday March 4. There are a maximum of 20 seatings at Under Ekarna, to book your seat, email: maija.zetterlund@designarkivet.se
The seminar is arranged in collaboration with Linnaeus university with support from IASPIS.
WELCOME!