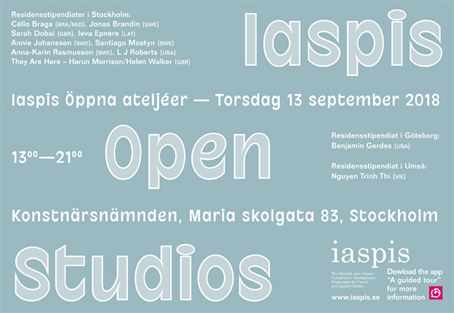 Welcome to Iaspis Open Studios in the presence of current Iaspis' residency artists and designers; and enjoy our artist talks, panel dicussions, performances and bar.
Participating Studio Grant holders:
Studio 1: They Are Here (GBR)
Studio 2: Santiago Mostyn (SWE)
Studio 3: Ieva Epnere (LAT)
Studio 4: LJ Roberts (USA)
Studio 5: Sarah Dobai (GBR)
Studio 6: Célio Braga (BRA/NED)
Studio 7: Annie Johansson (SWE)
Studio 8: Jonas Brandin (SWE)
Studio 9: Anna-Karin Rasmusson (SWE)
Studio Grant Holder in Göteborg: Benjamin Gerdes (USA)
Studio Grant Holder in Umeå: Nguyen Trinh Thi (VIE)
The International Dance Programme: Charlotta Öfverholm (SWE)
Conversation partners:
Henrik Andersson, Senior Lecturer in fine art Photography Konstfack, Stockholm
Rut-Malin Barklund, Artistic Director Barklund & Co, Stockholm
Hanne Friis, Visual Artist, Oslo
Anna Linder, Visual Artist, Curator and Cultural producer, Göteborg
Michele Masucci, Visual Artist and researcher, Stockholm
Corina Oprea, Artistic Director Konsthall C, Stockholm
Magnus af Petersens, Director Bonniers Konsthall, Stockholm
Helena Selder, Artistic Director Baltic Art Center, Visby
Brita Täljedal, Curator Bildmuseet, Umeå
Tris Vonna-Michell, Visual Artist, Stockholm
Ashik Zaman, Editor C-Print, Stockholm
Panel discussions and performances
IASPIS at Istanbul Design Biennial: Urgent Pedagogies – Learning and Unlearning through Spaces of Exception
A conversation between Sandi Hilal, Tor Lindstrand and Magnus Ericson about the upcoming seminar organised by Iaspis for the Istanbul Design Biennial. How can experimental educational platforms, operating in contested territories, make difference in transforming knowledge, and thus shaping design and architecture practice of today?
Read more about Urgent Pedagogies
Sandi Hilal is an architect and researcher based in Stockholm. Together with Alessandro Petti and Eyal Weizman she's a co-founder of DAAR (Decolonizing Architecture Art Residency) and Campus in Camps in Palestine. Tor Lindstrand is an architect, resercer and educator based in Stockholm. Within KTH School of Architecture he has been running a studio focused on developing design methods linked to social and political dimensions of architecture related to suburbs in the Million Programme. Magnus Ericson is project coordinator at Iaspis.
Flowing Waters, Animal Kingdoms, Children and the City, Indigenous Cultures and how Architecture Practice is Transforming
A conversation between architects Mauricio Corbalán and Tor Lindstrand on the uncertain agenda of architectural practice, methodologies and how to form critical positions. What if we are to use other perspectives in the process of shaping urban environments?
Read more about the conversation
Mauricio Corbalán is an Buenos Aires based architect. With Pio Torroja he's the co-founder of the reserch platform M7red. Tor Lindstrand is a Stockholm based architect, researcher and educator based in Stockholm, co-founder of Economy with Jessica Watson-Galbraith.
Charlotta Öfverholm, work-in-progress
Charlotta Öfverholm is a choreographer and dancer in Stockholm. Since the start of her Compagnie Jus de la Vie 1995, Charlotta Öfverholm has created over 25 dance productions, which has toured all over Europe, North and South America and Africa.
Her work is physical dance theatre with depth, irony, brutality and humour.
2015 Charlotta initiated the project AGE ON STAGE presenting maturity on stage, questioning the norms concerning age and bodies in the field of dance.
PROGRAMME
The studios are open 1–9 pm
Each talk lasts 20 minutes
1.00 pm Welcome Address by Anna Söderback, Director the Swedish Arts Grants Committee (the foyer)
1.10 pm Benjamin Gerdes with Michele Masucci (foyer)
1.30 pm Sarah Dobai with Tris Vonna-Michell (foyer)
2.00 pm Santiago Mostyn with Helena Selder (studio 2)
2.30 pm Célio Braga with Rut-Malin Barklund (foyer)
3.00 pm Ieva Epnere with Henrik Andersson (studio 3)
3.30 pm Annie Johansson with Hanne Friis (foyer)
4.00 pm Anna-Karin Rasmusson with Magnus af Petersens (foyer)
4.30 pm LJ Roberts with Anna Linder (studio 4)
5.00 pm Welcome Address by Johan Pousette, Director Iaspis (the foyer)
5.30 pm Panel discussion: Sandi Hilal and Tor Lindstrand. Moderator: Magnus Ericson (foyer)
6.00 pm Bar opens (foyer)
6.00 pm Choreographer/dancer Charlotta Öfverholm, Performance (work in progress) and film (studio, downstairs)
6.00 pm They Are Here with Corina Oprea (studio 1)
6.30 pm Nguyen Trinh Thi with Brita Täljedal (foyer)
7.00 pm Jonas Brandin with Ashik Zaman (foyer)
7.00 pm Public talk: Mauricio Corbalán and Tor Lindstrand (project room, downstairs)
7.30 pm Santiago Mostyn, Lecture performance (work in progress) (studio 2)
8.00 pm Harun Morrison, DJ set (foyer)
Graphic design: Stefan Engblom
More names TBC, reservations for changes.
For further information, please contact Iaspis Project Manager Visual Art: Lena Malm at lm@iaspis.se
In Appstore or Google play you can download the app "A guided tour" to see more information about the nine different studios and the artists that will be presented on 13 September. A guided tour is free and can be used in offline mode."