–
CROSS POLLINATION: CURATORIAL EXCHANGE ACROSS SWEDEN AND RUSSIA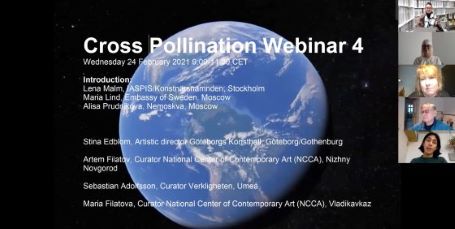 CROSS POLLINATION: CURATORIAL EXCHANGE ACROSS SWEDEN AND RUSSIA.
A collaboration between IASPIS, Nemoskva and the Embassy of Sweden in Moscow involving small and medium size art institutions across Sweden and Russia.
What?
At a time when the political climate is getting harsher in many parts of the world, and borders are closing for various reasons, it is particularly important to maintain, develop and deepen contacts between art workers in different countries.
This project consists of a number of events and encounters involving eight curators and directors from art institutions in Sweden and Russia respectively, with the purpose to exchange knowledge and experience. It is about the institution in question, as well as its wider context and the art with which it engages. A long term goal is that artists from the two countries will be able to exhibit and in other ways present their work in the other country, and that the institutional participants can develop various collaborations.
How?
As the pandemic still prevents traveling across the borders, the project will start with a series of webinars where each participant will introduce their institution and two artists whose work they have engaged with. The next steps will be developed collaboratively by the participants and the organisers. When physical travel eventually will be allowed, study trips to the other country will be organised. The first trip, with the Russian group going to Sweden, is scheduled for fall 2021.
Representatives from eight institutions in each country will participate, preferably curators and directors who are actively curating, all in all sixteen people. Online meetings can follow the webinars, leading up to the trips.
Who
In Sweden:
Sebastian Adolfsson, Curator, Verkligheten, Umeå; Rebecka Wigh-Abrahamsson, Curator, Uppsala Art Museum; Stina Edblom, Artistic Director, Göteborgs Konsthall, Göteborg/Gothenburg; Emily Fahlén and Asrin Haidari, Artistic Directors, Mint, Stockholm; Caroline Malmström, Artistic Director, Art Lab Gnesta, Gnesta; Helena Selder, Artistic Director, Baltic Art Center, Visby; Kirse Junge-Stevnsborg, Director, Malmö Art Museum; Sarah Guarino Werner, Curator Haninge konsthall, Handen.
In Russia:
Alisa Bagdonaite, Chief Curator, ZARYA Center for Contemporary Art, Vladivostok and Golubitskoe Art Foundation, Taman Peninsula; Oksana Budulak, Curator, Krasnoyarsk Museum Centre Ploschad Mira; Artem Filatov, Curator, National Center of Contemporary Art (NCCA), Nizhny Novgorod; Maria Filatova, Curator, National Center of Contemporary Art (NCCA), Vladikavkaz; Alisa Sycheva, Curator, National Center of Contemporary Art Yekaterinburg; Elena Tsvetaeva, Head of the Baltic Branch of the Pushkin State Museum of Fine Arts, National Center of Contemporary Art (NCCA), Kaliningrad; Anna Zavediy, Sector manager, National Center of Contemporary Art (NCCA), St. Petersburg; Pjotr Zherebtsov, Curator, CC19 (Centre for Culture 19), Novosibirsk.
Initiated by Maria Lind, Counsellor of culture, Embassy of Sweden, Moscow; Lena Malm, Project Manager Visual Arts, IASPIS, Stockholm, and Alisa Prudnikova, Director, Nemoskva, Moscow.
For further information, please contact IASPIS Project Manager Visual Arts: Lena Malm at lm@iaspis.se